This Didn't Age Well: Samantha Bee Described Schneiderman As A 'Super Hero' Who Could Stop Trump
"Are you going to lead us out of the darkness?" asked feminist progressive comedian Samantha Bee of Democratic New York Attorney General Eric Schneiderman just six months ago in an interview.
"No" is the answer. No, because Schneiderman has resigned amid allegations of physical and sexual abuse of women.
Here's the interview from November 2017, where Bee declared Schneiderman to be a "super hero" who "stood up to democracy's nemesis before."



Bee also declared that Schneiderman had "beautiful brown eyes," a reference to Donald Trump's claims that Schneiderman wears eyeliner.

Bee exclaimed "You're going to save us!" referring to reports at the time that Robert Mueller was tapping up Schneiderman as part of the investigation into former Trump campaign chief Paul Manafort.

"The state attorneys general are going to be the first line of defense, because the Constitution kept a lot of power at the state level to hold a potential tyrant in check," Schneiderman told Bee.

"We have that power now, and with great power comes great responsibility." he added.

Yeah. That didn't age well.

This, on the other hand, was a tweet Nostradamus would be proud of:

Weiner is gone, Spitzer is gone - next will be lightweight A.G. Eric Schneiderman. Is he a crook? Wait and see, worse than Spitzer or Weiner

— Donald J. Trump (@realDonaldTrump) September 11, 2013



Trump must be getting tired of the being correct and the winning.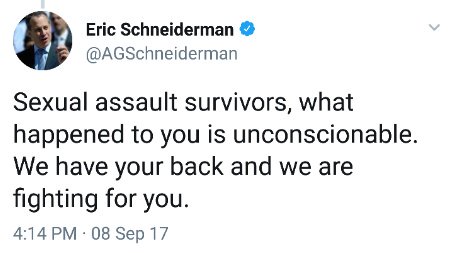 ________________________________________
https://www.infowars.com/this-didnt-age-well-samantha-bee-described-schneiderman-as-a-super-hero-who-could-stop-trump/